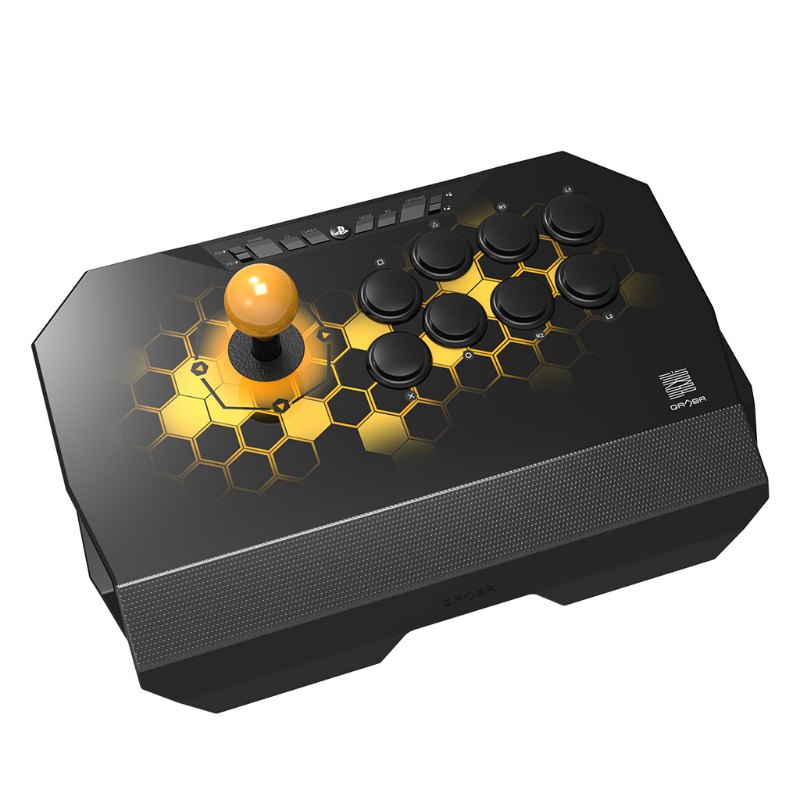 Qanba Drone Fightstick - PS4/PS3/PC tournament Lock Switch TURBO and MODE Buttons 14 x 6 x 5 3.6 lbs
Model: 764210998006
All countries
Product Description
Qanba Drone stands as the most accessible Fightstick for the current generation PS4 fighting and arcade titles.

Officially Licensed for Sony® Playstation 4

The Qanba Drone represents the first of Qanba USA's officially licensed Sony® Playstation 4 Fightsticks. It also has native PS3 control, and plug-and-play Windows support for PC gaming.
Compact Design

The Drone measures just under 13 inches wide, 9 inches deep and 4.5 inches high at the joystick top. It's a perfect size to fit in a small backpack, yet large enough for comfortable gameplay on a desktop or your lap. Underneath the Drone are anti-slip bottom pads to keep the action in place. If you're moving up from a Qanba Q1 CUT, you can actually use the table clamps on the Drone. A neat bottom access panel lets you access the joystick shaft, allowing you to swap balltops or install a battop without having to open the entire bottom housing. It's lightweight at 3.6 pounds, and younger kids eager to try arcade style titles have no problem transporting it to their friends house. For its smaller size, the Drone still packs many of the features you expect from a current generation console Fightstick.

The Qanba Drone sports a long, 7.5 foot USB cable, which neatly tucks into the open space just under the wrist rest.
Qanba Joystick and Buttons

The Qanba Drone features a proprietary set of pushbuttons and joystick, which offer a solid gameplay experience.

For those willing to mod with a Sanwa JLF-TP-8YT Joystick, take care to swap the existing wiring harness with Spare 5-Pin Female Harness for Zero Delay USB Encoder PCB, which features a 5-pin connector on both sides. One connector attaches to the JLF, and the other to the Qanba Drone control PCB.

The 30mm pushbuttons are replaceable with equivalent .110 microswitch pushbuttons.

Features:

• PS3/PS4/PC Compatibility
• Qanba Joystick and Pushbuttons
• Anti-slip PaddingT
• tournament Lock Switch
• TURBO and MODE Buttons
• PS4/PS3 Switch
• L3/R3 Buttons on Control Panel
• PS Home, Share and Options Buttons
• 7.5' USB Cable
• 14" x 6" x 5"
IPW Fight Tech: Qanba Drone arcade stick & Guardian bag video review
IPW Fight Tech: Sanwa Denshi JLF lever mod on Qanba Drone arcade stick
Qanba Drone modding video


(Product Descrption by Focusattack)